Weekly homes sales for the Conejo Valley have been steadily climbing over the last several weeks to be above 50 per week. If we had more homes to sell, the number of sold homes would be even higher given that so many homes go into multiple bids, upwards of 5, 7 or even 10+!
Lawrence Yun, Chief Economist at NAR, echoes our thoughts:
"The sales…would have been measurably higher, had there been more inventory. Days-on-market are swift, multiple offers are prevalent, and buyer confidence is rising."
When addressing whether or not today's high buyer competition and rising home prices are evidence of a housing bubble, Yun said this "is not a bubble. It is simply lack of supply."
Buyer demand remains strong. With more of the adult population becoming vaccinated and job creation data showing encouraging signs, existing-home inventory is expected to grow in the coming months.
What will this mean for home sales going forward?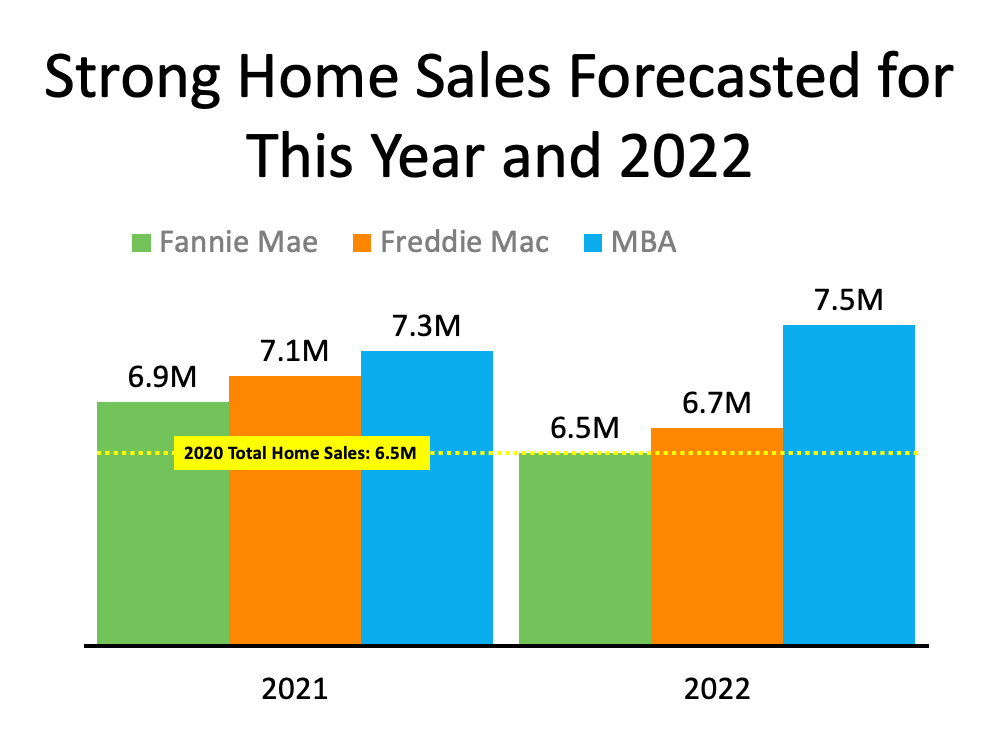 Fannie Mae, Freddie Mac, and the Mortgage Bankers Association (MBA) have all forecasted that total home sales (existing homes and new construction) will continue their momentum both this year and next. Here's a graph showing those projections:
Bottom Line
Living through a pandemic has caused many to re-evaluate the importance of a home and the value of homeownership. The residential real estate market will benefit from both as we move forward. It's a great time to sell so give us a call today – 818.383.4335.