According to the latest CoreLogic Home Price Insights Report, nationwide home values increased by 8.2% over the last twelve months. Average sold prices in the Conejo Valley increased 8.3%! The dramatic rise was brought about as the inventory of homes for sale reached historic lows at the same time buyer demand was buoyed by record-low mortgage rates. As CoreLogic explained:
"Home price growth remained consistently elevated throughout 2020. Home sales for the year are expected to register above 2019 levels. Meanwhile, the availability of for-sale homes has dwindled as demand increased and coronavirus (COVID-19) outbreaks continued across the country, which delayed some sellers from putting their homes on the market.

While the pandemic left many in positions of financial insecurity, those who maintained employment and income stability are also incentivized to buy given the record-low mortgage rates available; this is increasing buyer demand while for-sale inventory is in short supply."
Where will home values go in 2021?
Home price appreciation in 2021 will continue to be determined by this imbalance of supply and demand. If supply remains low and demand is high, prices will continue to increase. We are hoping the newly passed Proposition 19 here in California will improve our housing inventory as more people are able to move, taking their tax base with them, but it remains to be seen.
Housing Supply
Currently here in the Conejo Valley, there are 181 homes for sale as compared to 338 homes for sale in 2019. Thats a 45.9% decrease in housing inventory! We are at a 1 month's supply of inventory and if you look at the numbers in depth, we are actually at a half of a month's supply in inventory for homes less than $1.5M. We need homes to sell! The buyers are out there waiting.
There is some speculation that the inventory crush will ease somewhat as we move through the new year for two reasons:
1. As the health crisis eases, more homeowners will be comfortable putting their houses on the market.
2. Some households impacted financially by the pandemic will be forced to sell.
Housing Demand
Low mortgage rates have driven buyer demand over the last twelve months. According to Freddie Mac, rates stood at 3.72% at the beginning of 2020. Today, we're starting 2021 with rates one full percentage point lower than that. Low rates create a great opportunity for homebuyers, which is one reason why demand is expected to remain high throughout the new year.
Taking into consideration these projections on housing supply and demand, real estate analysts forecast homes will continue to appreciate in 2021, but that appreciation may be at a steadier pace than last year. Here are their forecasts: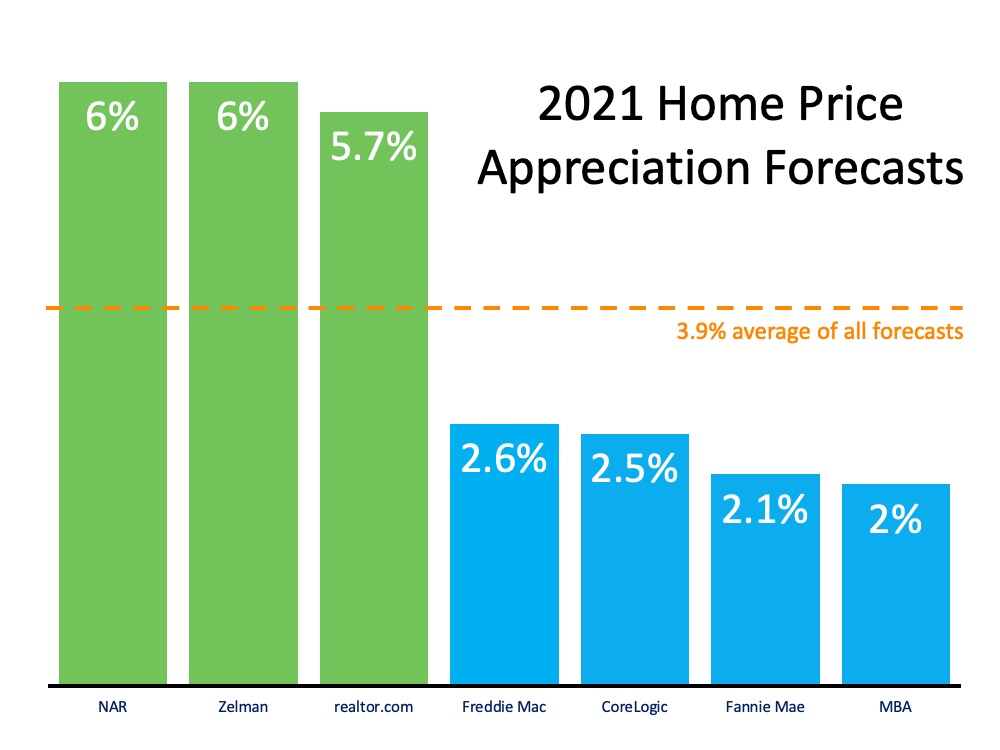 Bottom Line
There's still a very limited number of homes for sale for the great number of purchasers looking to buy them. As a result, the concept of "supply and demand" mandates that home values in the country will continue to appreciate. It's truly a great time to sell? If you have ever had a thought or inkling, give us a call and let's talk you through the possibilities.