The housing market keeps sailing along. The only headwind that could take it off course is the lack of inventory for sale. The National Association of Realtors (NAR) reports that there were 410,000 fewer single-family homes for sale this March than in March of 2020 nationally and locally here in the Conejo Valley, inventory is down 53% from 2020. The key to continued success in the residential housing market is for more listings to come on the market. However, many homeowners are concerned that selling their homes could be challenging for several reasons.
Recently, Homes.com released the findings of a survey that identified these concerns, as well as what it will take for homeowners to feel comfortable selling their houses. Here are the four major homeowner concerns and a quick explanation of what's actually happening in the housing market today.
1. Homeowners don't know if they'll be able to secure their next home before selling.
In negotiations, leverage is the power that one side may have to influence the other side while moving closer to their negotiating position. A party's leverage is based on the ability to award benefits or eliminate costs on the other side.
In today's market, buyers have compelling reasons to purchase a home now:
To own a home of their own
To buy before prices continue to appreciate
To secure a mortgage at a historically low rate, while they last
In today's uber competitive real estate market, buyers are bending over backwards to please the seller with [almost] whatever the sellers wants for selling terms in the hopes they their offer will get accepted over the other ones being submitted. Yes, price matters, but sellers may also want a short or longer escrow period or a lease-back. Ask for 60 days + escrow period to give you time to find a home, chances are the buyer will be fine with it. If ever there was a time to sell on your own terms, it is now.
At Lydia Gable Realty Group, we also offer an exclusive Trade-In program with Homelight that allows you to buy before selling with a small transaction fee. It takes the stress out of the buying/selling at the same time situation. We have had several clients utilize this program, along with our Cash Offer program, with tremendous success! The clients loved how easy and stress-free it all was for them.
2. Homeowners don't know if their current home will sell for the asking price or top market price.
This is the perfect time to maximize profits while selling a house. NAR just released a study showing that bidding wars are at an all-time high. The study reveals that when comparing the first quarter of last year to the first quarter of this year, the number of offers on homes for sale doubled from an average of 2.4 to 4.8 offers. We are seeing this exact fact here in the Conejo Valley.
Whenever there's a bidding war, the price of the item for sale escalates. Bloomberg recently reported:
"For the first time ever, the average U.S. home is selling for above its list price."
If a seller is looking for a top-dollar sale, there's no better time to sell than right now.
3. Homeowners don't know if they will get an offer without their home requiring work or updates.
Again, leverage is the greatest strength a seller has in this market. Due to the lack of homes for sale, many buyers are more willing to take on home improvement projects themselves in order to get the home they're after.
A recent post on whether or not to renovate before selling notes:
"It may be wise to let future homeowners remodel the bathroom or the kitchen to make design decisions that are best for their specific taste and lifestyle. As a seller, your dollars and time might be better spent working on small cosmetic updates, like refreshing some paint and power washing the exterior. Instead of over-investing in your home with upgrades that the buyers may change anyway, work with a real estate professional to determine the key projects that will maximize your listing, without overdoing it."
If a seller is worried about doing work or updates on their home, they must realize that today's historically low inventory likely renders these projects less critical to the sale of the house. Talk with an experienced Realtor who can accurately assess how buyers will respond to your home. If it's mutually decided that home updates would maximize the sale of the home in terms of price and time on market, we, at Lydia Gable Realty Group, have a Compass Concierge program that fronts you the money for home improvements that you simply repay at closing. No interest or fees charged. We have trusted contractors who can move
4. Homeowners don't know if they can have a quick closing process.
When speed is important, there are two points sellers should look at:
The time it takes to find a buyer for the home
The time it takes to close the transaction
In the latest Existing Home Sales Report, NAR explains:
"Properties typically remained on the market for 18 days in March, down from 20 days in February and from 29 days in March 2020. Eighty-three percent of the homes sold in March 2021 were on the market for less than a month."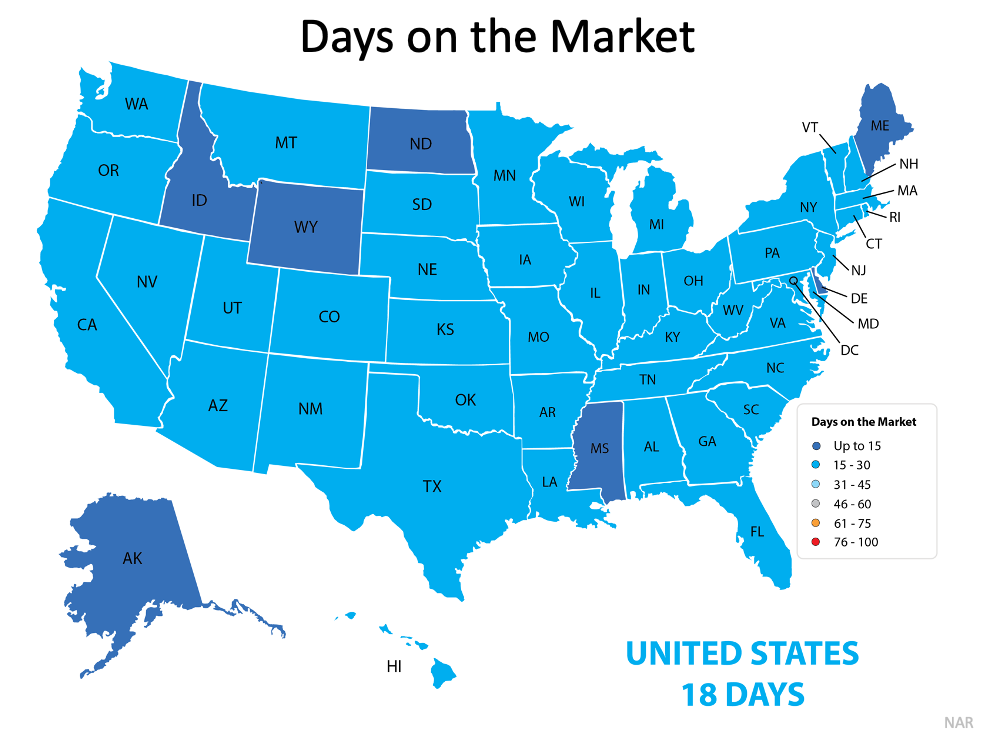 Eighteen days is fast, and it's a new record. Here are the days the average house is on the market in each state: Regarding the time it will take to close the transaction, all-cash sales accounted for 23% of all home purchase transactions in March. All-cash sales can usually be closed in thirty days.
If a mortgage is necessary, the most recent Origination Insight Report from Ellie Mae shows:
"Time to close all loans decreased in March. The average time to close a purchase fell to 51 days, down from 53 the month prior."
If you're looking for a quick closing process, there's never been a market in which the two-step process (finding a buyer and closing the deal) has taken less time.
Bottom Line
Selling your house can be daunting, especially in a fast-paced market. However, the fact that we're in such a strong sellers' market clearly eliminates many common concerns. Let's connect today so you can learn more about the opportunities for homeowners who are ready to sell. We promise to make it easy with great customer service! 818.383.4335.